March 2021
From design to deployment
Despite the struggles of Covid and other setbacks, our development team has continued to work hard behind the scenes. The last couple of months have been extremely difficult for us, but we remain focused on improving LunaHR.
Recently, our team has been focused a lot on our roadmap and the functionality that we want to develop in 2021 and 2022. Moving forward, we are increasing our emphasis on planning and listening to our client needs, especially with working environments changing post-covid. We stand by our goals of becoming a global player in the HR world and are incredibly excited to strive for this with our existing clients.
New Support Channel
Utilising JIRA, Feedback Options, Feature Requests
Previously we got feedback by asking clients directly or using a basic web form on LunaHR. Bugs were generally reported by email and feedback from end users was difficult collect
Moving forward, a crucial aspect of improving LunaHR will be the way we collect feedback. Feedback will act as a powerful guide that will give us insights to improve Luna through UX and customer support. This is incredibly important when it comes to customer satisfaction. And it's something we want to prioritise in 2021.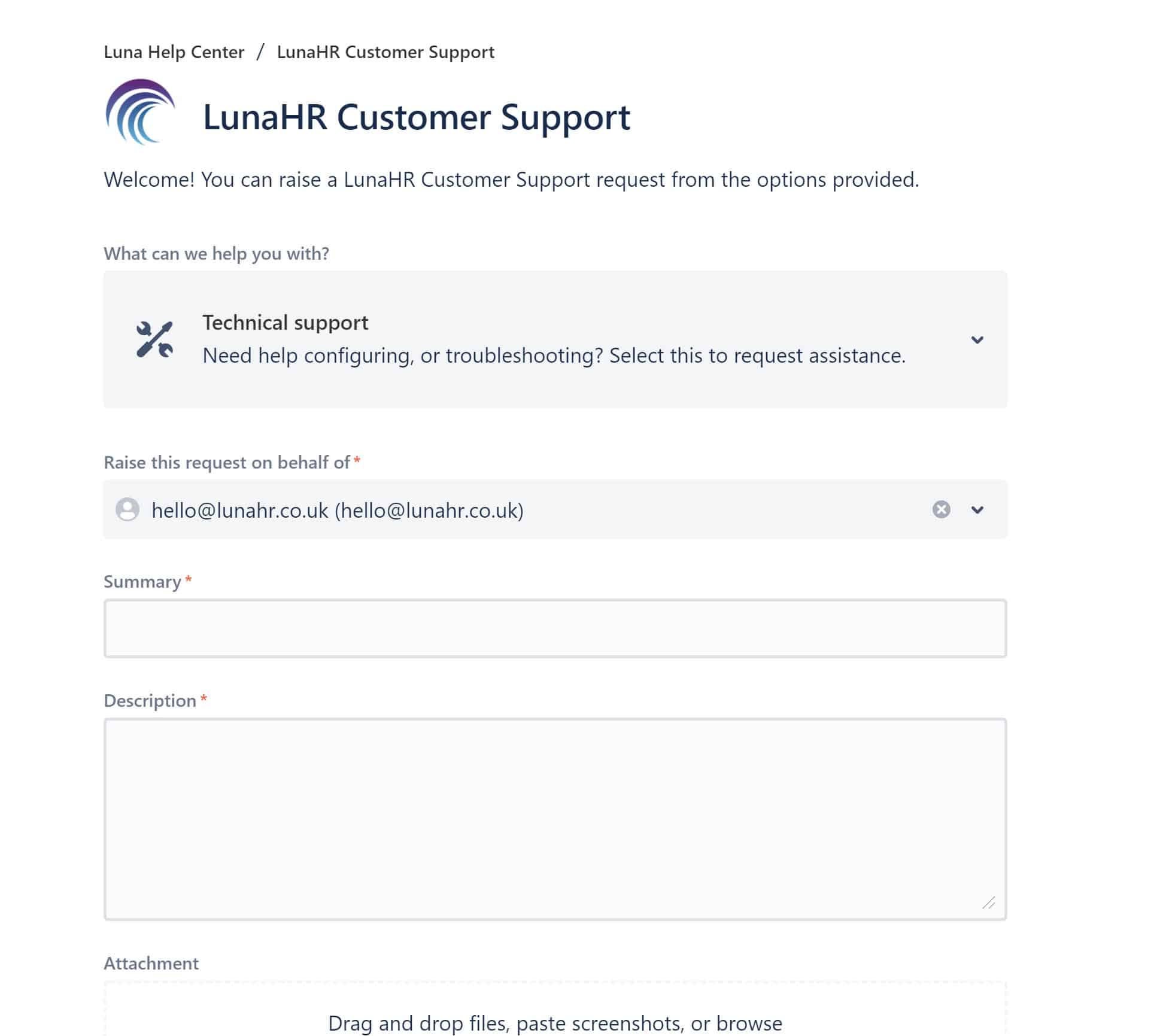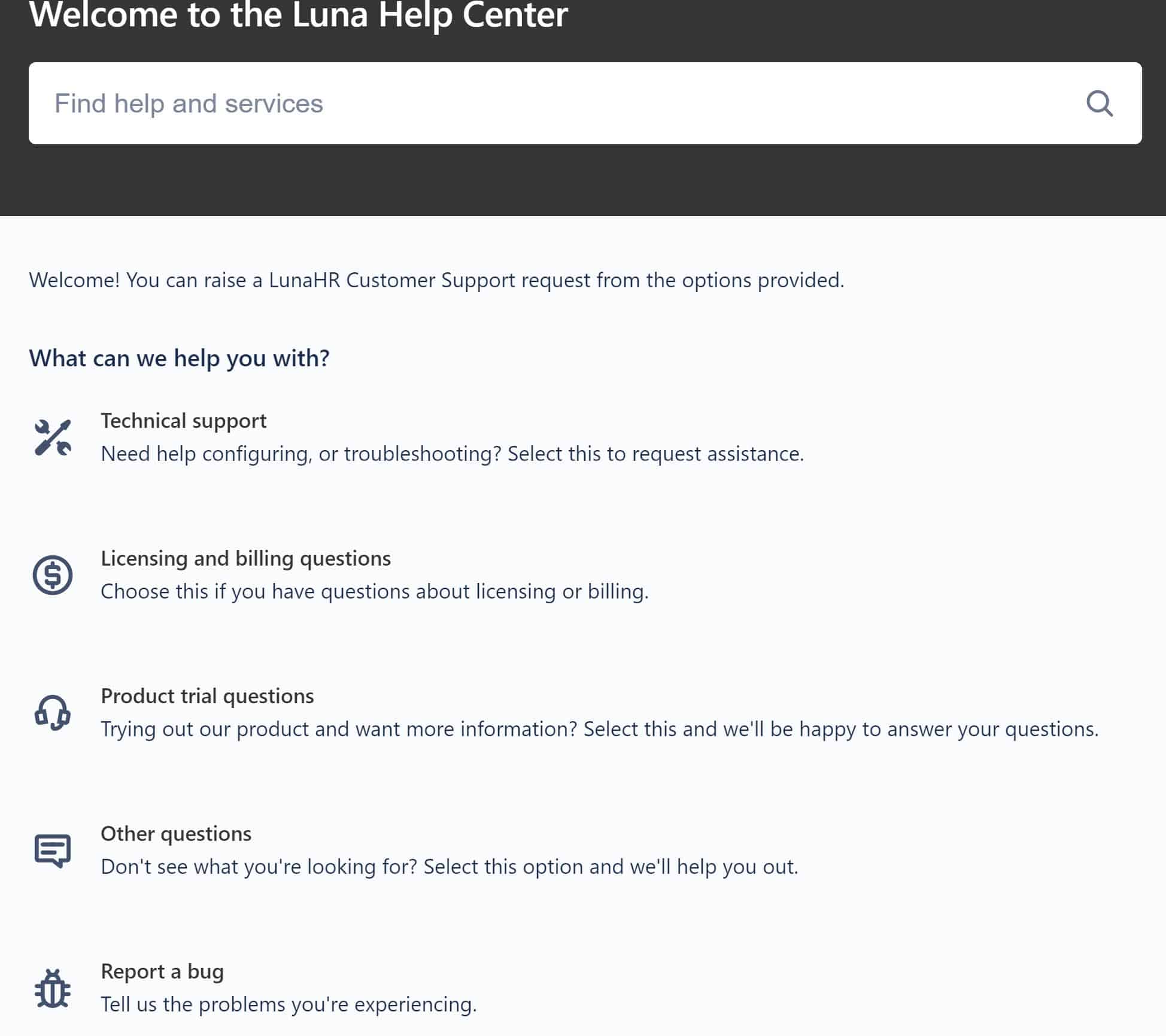 Whether the feedback is good or bad, it's important that we hear product suggestions, potential bugs or limitations and other questions end users may have. Therefore, we are making it easier to do exactly that by increasing the amount of feedback channels (our new help portal, email and potentially a widget) and making the process more streamlined. Additionally, we are making it so more detail can be added – i.e. images can be uploaded pinpointing a bug.
More importantly, we are taking this feedback using these new channels and immediately creating tickets ready for action. Collecting this information gives us an opportunity to collect quantitative and qualitative feedback on real Luna experiences and also makes life a lot easier for our customer support team.
Recurring Leave
Ideal for custom leave types such as study leave
Based on client feedback and competitor analysis, we have introduced recurring leave for custom leave types. When creating a custom leave type, you now have the option to enable recurring leave. This allows HR / Line managers to book recurring leave for employees, but also employees to send recurring leave requests for approval.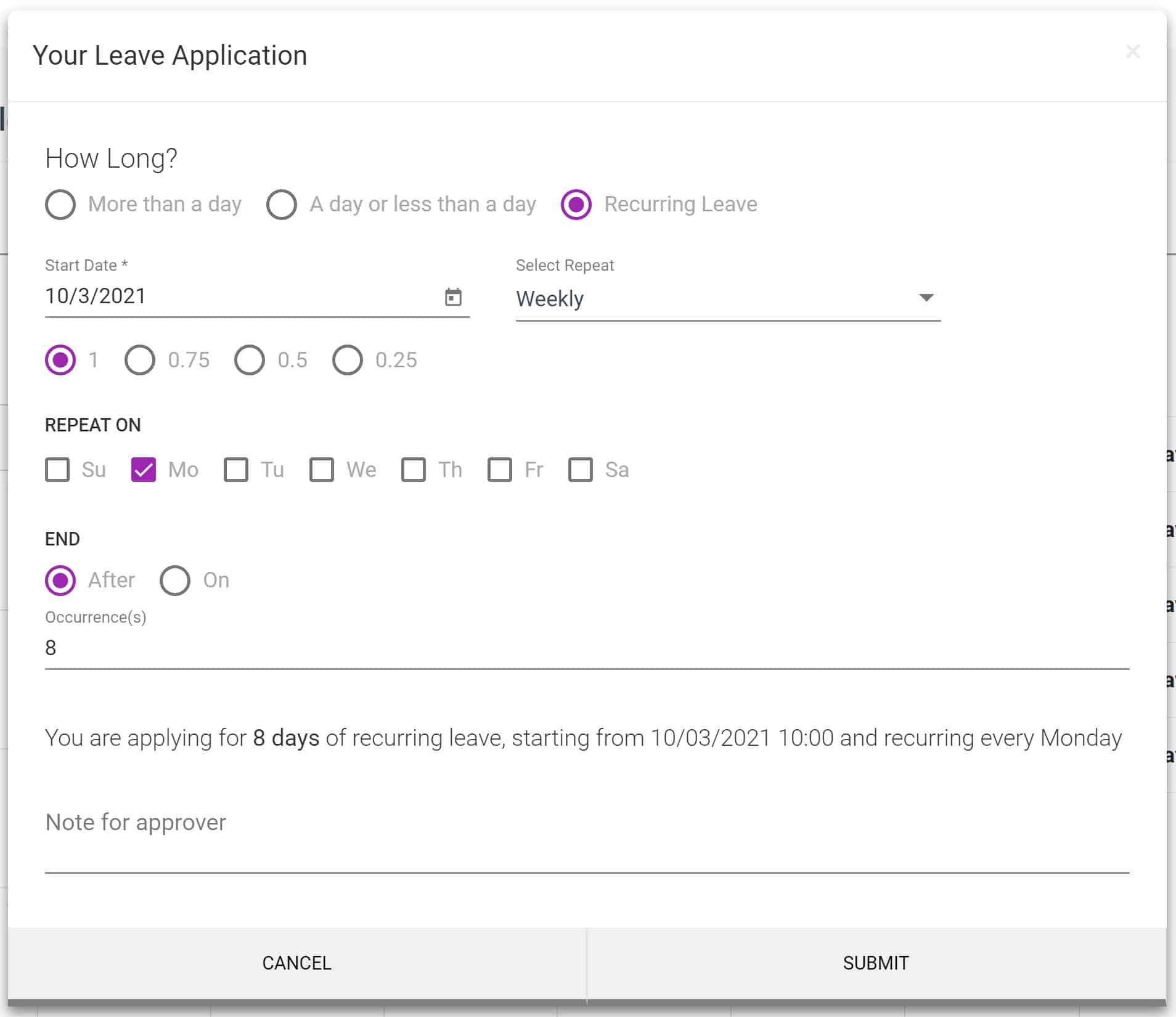 The main benefit of recurring leave applications is the amount of time you save. Luna now provides the ability to set specific criteria that will allow you to make complex leave applications over a set period of time or occasions. For example, if you have a training day every Monday for the next 2 months, you would have had to create 8 separate leave applications before this update. With recurring leave however, you can do this in one application – simply by setting the criteria and hitting submit.
Next in the pipeline
Modular improvements
We are trying our best to work closely with existing clients to determine their current HR struggles and how we can help. By doing this, we have identified some improvements to make. In the next couple of months we will be focused on (1) fixing any existing bugs or adding minor improvements (2) revamping the attendance module (3) making it so custom reminders can be set for employees i.e. when a probation period finishes (4) looking to integrate some of our modules into Microsoft Teams, Slack and Azure.