LunaHR Leave Module
---
The simplicity of remote and hybrid employees being able to submit electronic leave requests for approval by management and the ability to quickly authorise requests while ensuring business continuity creates a harmonious working environment.
The LunaHR Leave Module has been developed to provide approval through business rules enhancement, where the HR manager is left only dealing with exceptional circumstances when it comes to leave management.
Intuitive Leave Workflow
Comprehensive Leave Reports
Work Patterns
Public Holiday Integration
Part-timer Friendly
Custom Leave Types
Interactive Leave Emails
Advanced Leave Settings
Automated Leave Carry Forward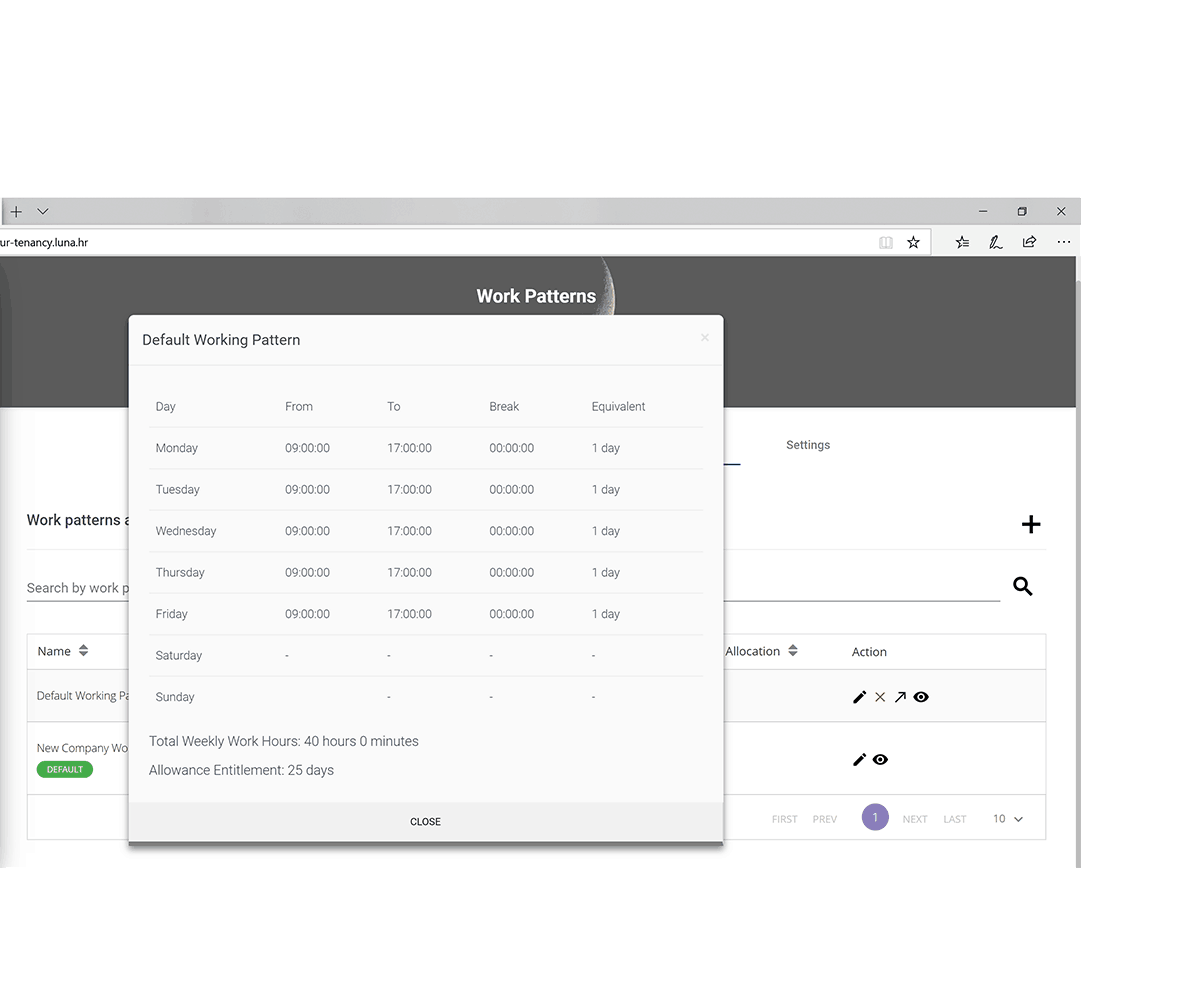 01
Flexible Working
The modern UK SME workforce values flexible working – remote and hybrid employees have flexible hours and unique working patterns. Our leave module allows HR to create unique working patterns for their company, specific departments and employees.
Furthermore, LunaHR work patterns define a daily start and end time. This allows for accurate partial day applications, so employees can apply for half days and select a specific timeslot to fit their needs.
Part-time employees benefit from automatic FTE calculations and any changes in working agreements can quickly be updated to reflect leave. FTE calculations make it easier for HR to determine annual leave allowances by taking into account public holidays.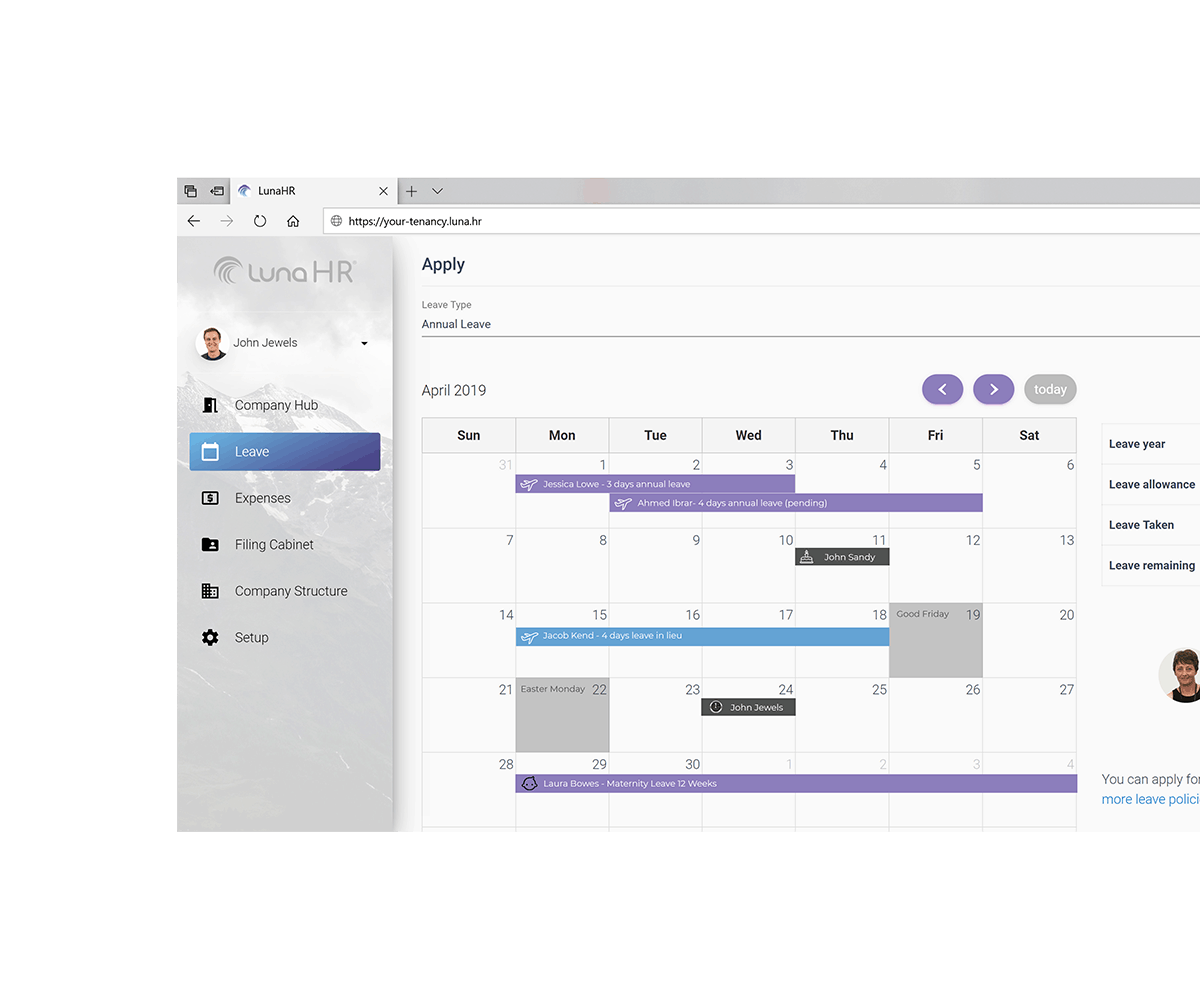 02
Intuitive Leave Applications
From the user electronically applying to the approver reviewing, the leave journey is intuitive, helping save time for everybody, allowing employees to focus on their other responsibilities.
LunaHR uses business rules to enable validation for when employees apply for leave, for example this can prevent overbooking of leave and employee shortage, especially during crucial project deadline periods.
Post validation, employees applying for leave are met with a comprehensive leave overview page. The leave overview page not only gives a visual representation but also outlines key information, for example employees on leave at the same time, their leave approver, public holidays and leave metrics. Enabling a better informed decision.
Post submission, the leave approver is notified in both the LunaHR platform and by email. Custom leave email templates allow approvers to approve or reject applications within their inbox, allowing for quick responses.
Leave is then synchronised to online calendars ensuring that peers and management are aware of upcoming leave and any potential conflict.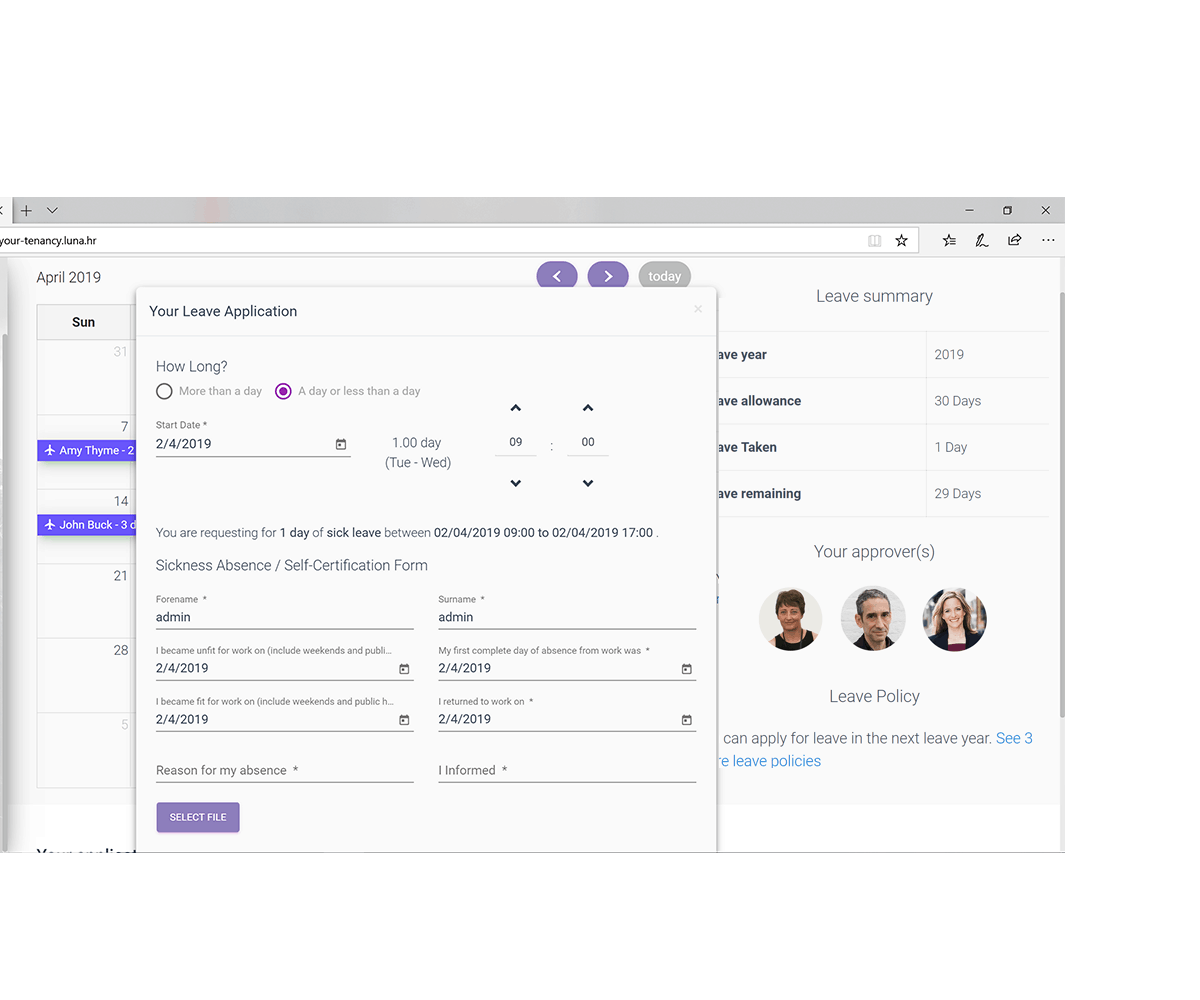 03
Absence Mangement
Sickness reporting is streamlined to ensure absences are logged into the LunaHR platform efficiently and according to corporate processes. Unauthorised and forgotten absences are reduced through the platform's logging reminder system.
Absence notifications can be sent according to business rules and a configurable return to work process ensures obligatory data is captured and stored electronically.
LunaHR Absence Management reports provide insights into absenteeism trends and allows early intervention in a timely manner improving remote and hybrid workforce relationships.
Arrange a demo
Personalised walk through with a customer success manager
Fancy a chat?
Questions? We have the answers.