LunaHR Expense Module
The LunaHR mobile friendly platform allows remote and hybrid employee expenses to be filed from anywhere on a multitude of devices at any time.  Receipts can be photographed ensuring estimated expenses are minimised, cost centre allocation is customised and can be analysed by department and expense category.
Additional expense categories can be added for specific departments.  Expenses can be consolidated against rechargeable items against projects and clients.
Custom Expense Categories
Custom Expense Fields
Advanced Mileage System
Comprehensive Expense Reports
Audited and Secure
Mobile Friendly
Customisable Pay Workflow
Recall and Send Reminder Functionality
Advanced Expense Settings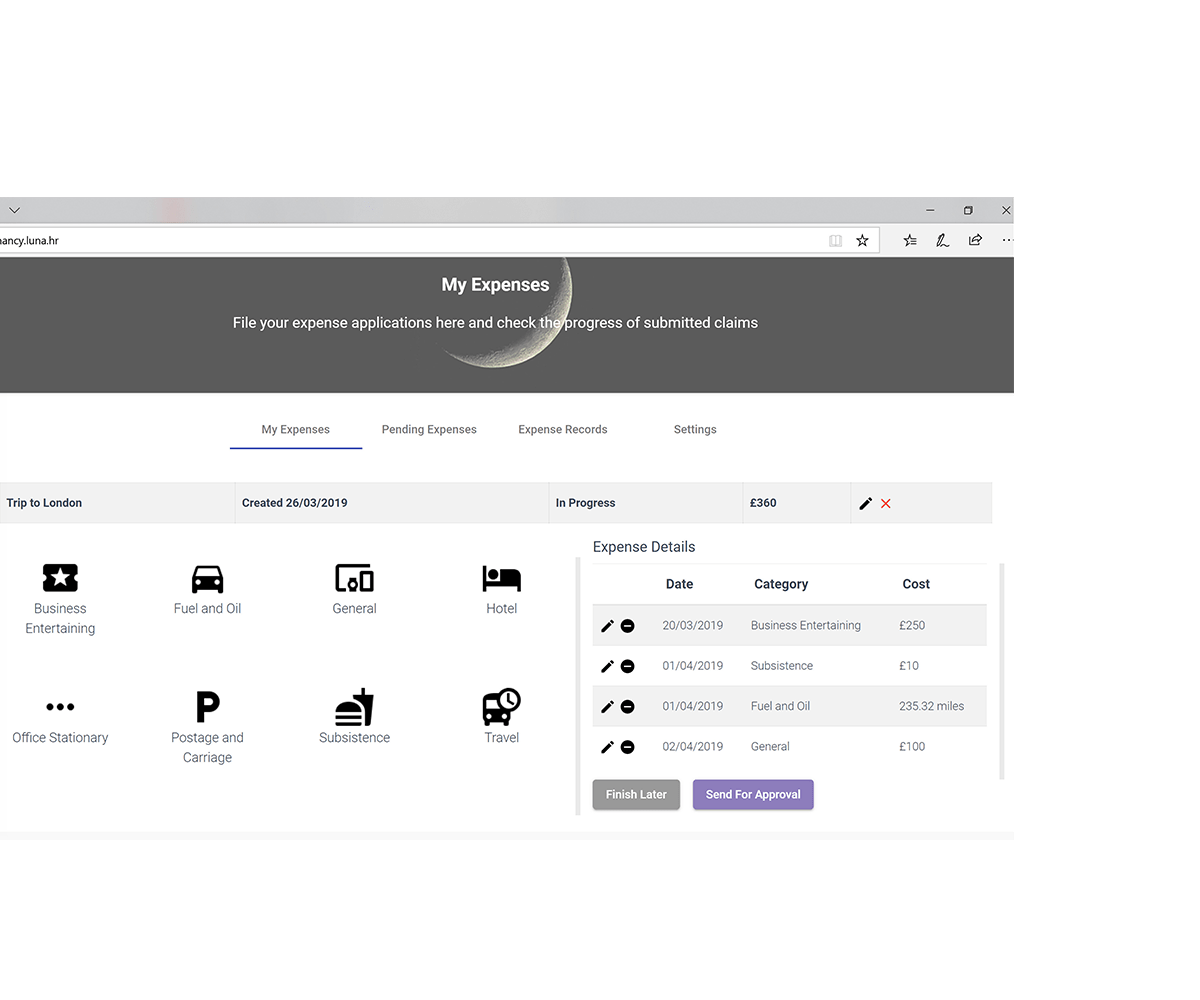 01
Quick Expense Applications
The LunaHR Platform adopts a shopping cart method for handling expenses, you can easily add, edit and remove expenses, making it quick for employees to compile large expense reports.
The above can be done from just one page, upload receipts, add expense details and then add another expense item, employees can do all of this without the frustration and slowness of page refresh, regardless of the device they are using.
Post expense report submission, employees have the opportunity to recall their expense reports, allowing for amendments to be made, which in turn, allows employees to correct mistakes instead of having their expense report rejected.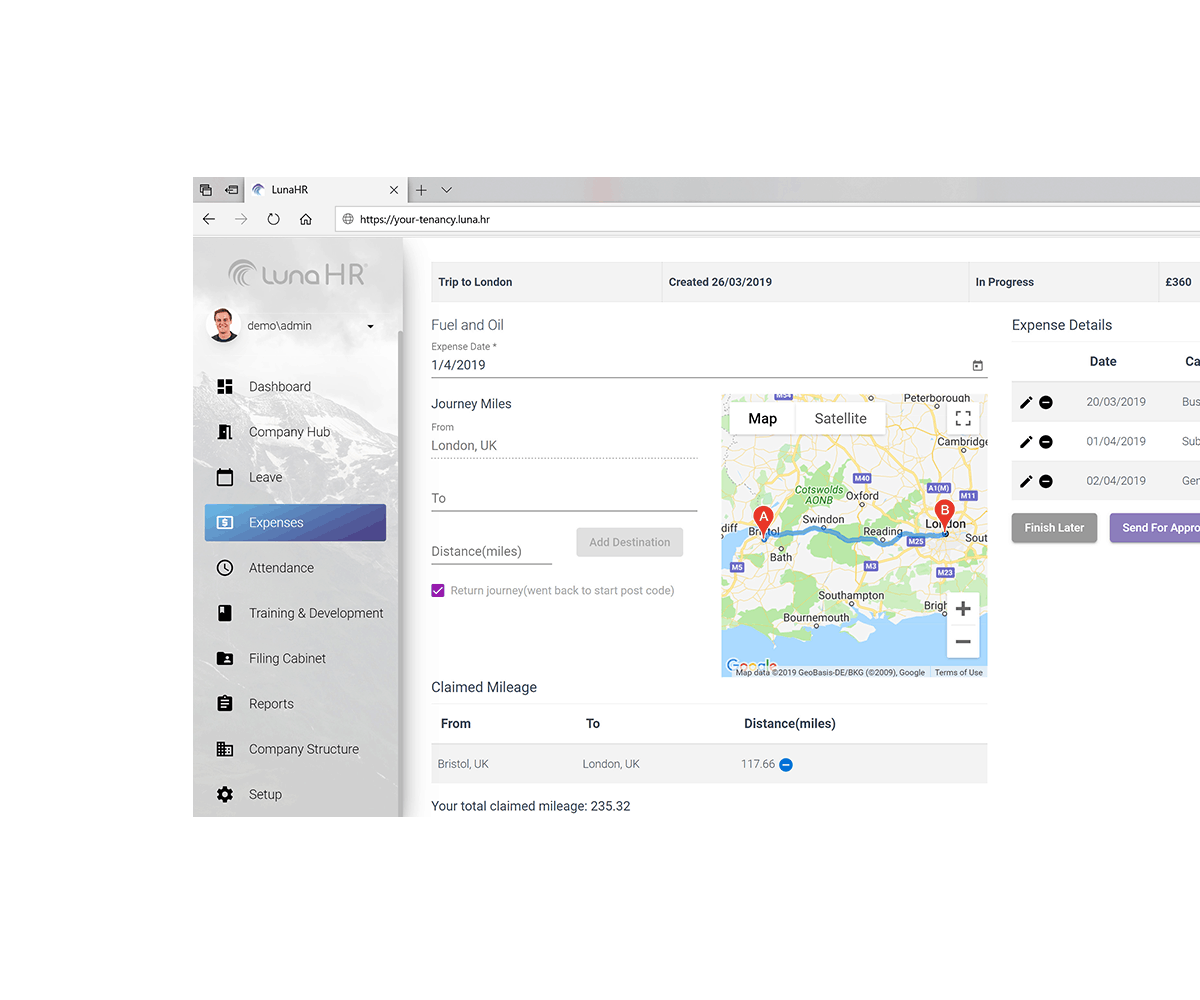 02
Easy To Use Mileage
The LunaHR mileage system has been integrated with Google, allowing for accurate Google calculated mileage, saved addresses and visual map representation of journeys, giving employees and expense payers confidence when processing mileage applications.
Multiple way points can be added, allowing for complicated journeys with various stops to be mapped out in one mileage claim, saving employees time.
The LunaHR mileage system allows users to override the Google API, this is fully audited, allowing users to enter personal mileage that takes into account aspects which Google does not consider i.e. traffic and searching for parking.
Along with mileage rates, thresholds, ability to add cars, accrued mileage and specific mileage reports we have one of the best systems on the market.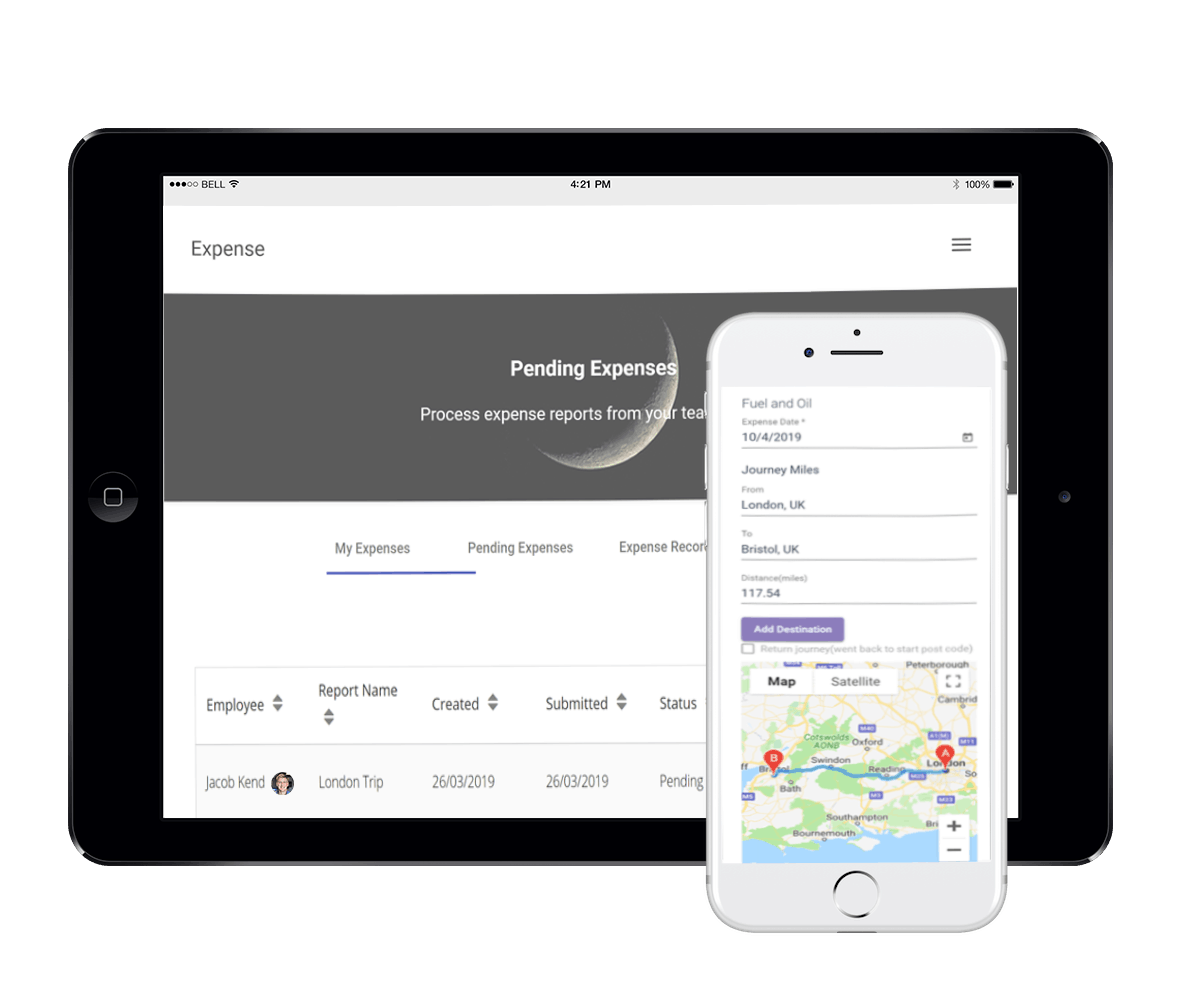 03
On The Go Expenses
The LunaHR Platform is built mobile upwards, the expense module has a well-designed user interface regardless of the device, allowing remote employees to instantly claim expenses whilst on the road.
We are working on developing a LunaHR mobile application for both iOS and Android, making it even easier to claim expenses by mobile.
Arrange a demo
Personalised walk through with a customer success manager
Fancy a chat?
Questions? We have the answers.